Waiting Room
Our waiting room has chairs on either side of the room so you and your pet don't have to be sitting right next to someone else's unruly pet. We also have a retail area where you can peruse different pet supplies, including rawhides, vitamins, joint supplements, oral hygiene supplies, and treats.
---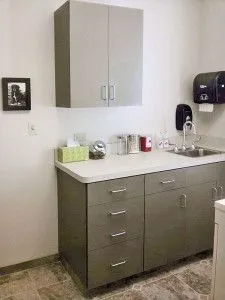 Dog Exam Room
Our dog exam room is large enough for us to examine larger dogs on the floor and the little guys on the table.
---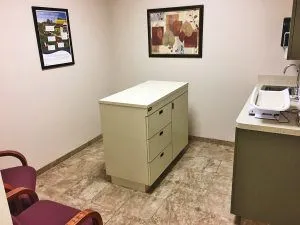 Cat Exam Room
Our cat exam room is quiet and comfortable to make your cat's visit to the vet less stressful. Having a room dedicated to cats also helps ease their anxiety, as cats seem to know if there have been dogs in the room prior to their visit!
---
Treatment Area
Our treatment area is where all the activity happens at the clinic. This is where your pet has their blood drawn, x-rays taken, is anesthetized for a procedure, has a bandage applied, etc. As you can see it is clean and modern, and all the supplies we need are readily available.
---
In-House Digital Radiographs
Gone are the days of film x-rays, which took several minutes to develop, and often, several attempts to get the proper exposure. With digital x-ray, the image is processed automatically the moment the picture is taken, and we are able to make the pictures darker or lighter right on the screen, or zoom in on areas of concern. Digital capability also allows us to quickly and easily email radiographs to specialists when necessary, which means that you get answers about your pet's health much faster!
---
Surgery Suite
Our surgery suite is equipped with a heated surgery table, which helps anesthetized patients maintain their body heat during surgery, allowing for quicker recovery. We also have state of the art monitoring equipment that measures heart rate, respiratory rate, body temperature, oxygen saturation of the blood, ECG, and blood pressure.
---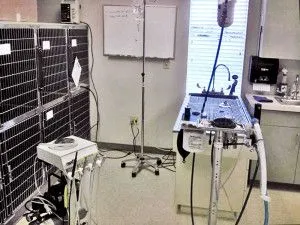 Treatment Area/Dentistry Station
We have an ultrasonic dental scaler and polisher, which uses very fast vibrations to break up hardened calculus deposits on the tooth surface without damaging the enamel of the tooth. The scaler can rapidly remove tough stains and tartar, meaning less time for your pet to be under anesthesia. We perform an oral exam with every dental procedure, checking the gum line for pockets, identifying problem areas, and noting them in your pet's dental chart. If extractions need to be performed, we instill a local anesthetic in that area, so your pet wakes up comfortable and pain-free. In addition, all pets undergoing a dental procedure receive IV fluids, helping to maintain hydration and blood pressure, and allowing for quicker recovery from anesthesia.
---
Post Operative Monitoring Kennels
We like to have all of our patients out in the open where we can see them and immediately attend to their needs. In some of the larger veterinary clinics, animals are 'in the back' and out of site. Not here. Our patients seem to prefer being within eyesite of someone all day, instead of being isolated and alone.
---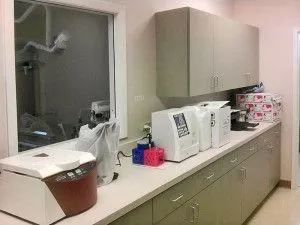 In-House Laboratory
Our clinic is equipped with in-house blood machines, allowing us to quickly run tests like a Complete Blood Count and Chemistry panel. These tests can give us a great overview of what is going on inside your pet: whether he/she is anemic, has electrolyte abnormalities, kidney or liver issues, etc. We recommend all pets undergoing an anesthetic procedure have pre-op bloodwork done so we can tailor our anesthetic protocol specifically to them. With in-house blood machines, results are obtained in minutes!
---
Cat Room
We have kitty condominiums that have shelves in each cage, allowing your cat an additional resting area. The condos also have a door that connects two of the cages together, which gives your kitty even more room. If your pet has to be here all day, we can put their bed, food and water on one side of the condo, and their litterbox on the other, separated by a wall with a small door. Most cats prefer to have their litterboxes in a separate location than their food, so it makes them feel more comfortable.
---
Isolation
We have an isolation room, where we can hospitalize animals with contagious diseases without compromising the rest of our patients. This room has a separate ventilation system, which exhausts to the outside, preventing airborne viruses from contaminating the rest of the clinic. In situations where we suspect a dog or puppy may have parvo, we even have a separate entrance near the isolation room so that we are able to more adequately contain the virus and not contaminate other areas of the hospital.
---